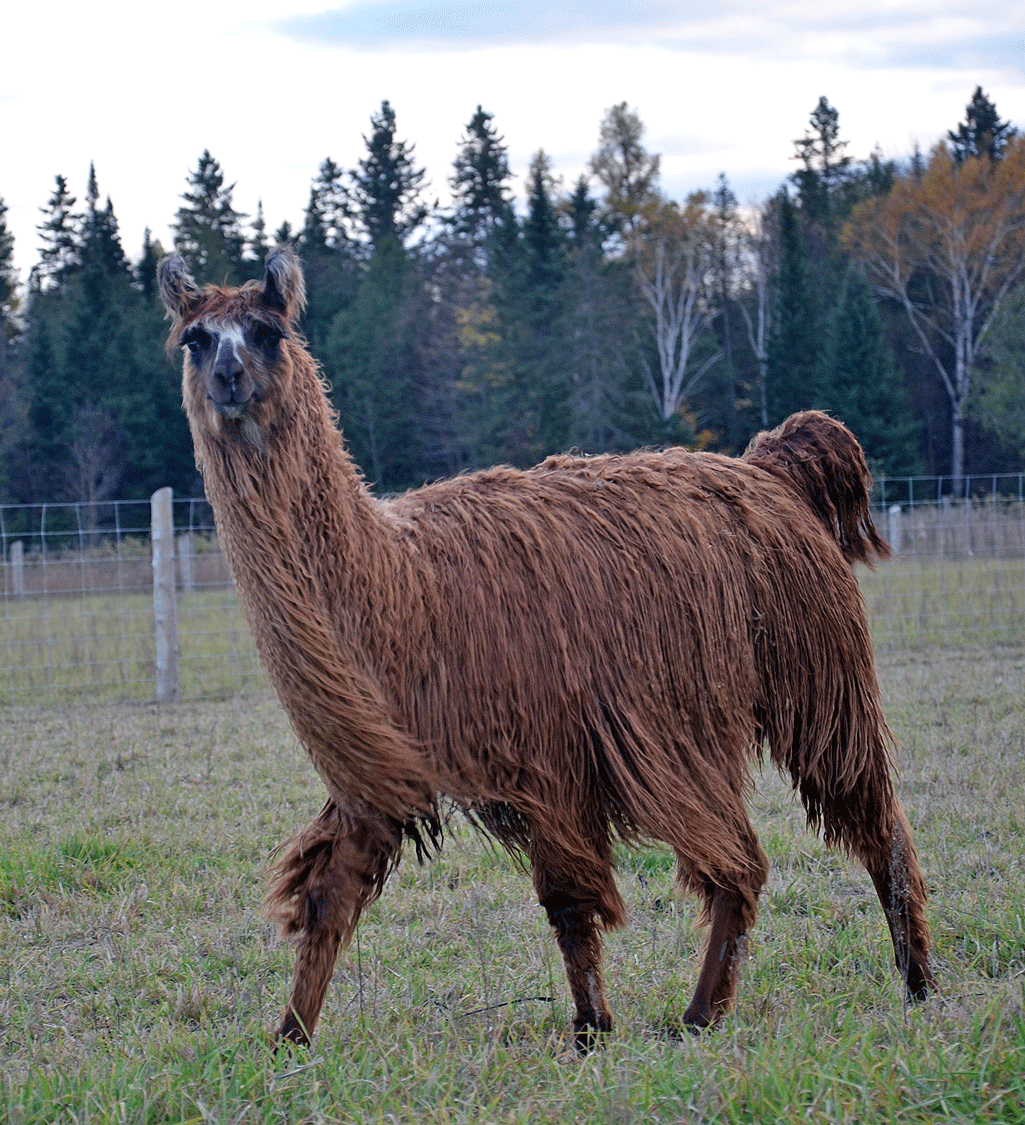 Sunrise Carina




Retired

Case Fire x MJ Catalina

Phenotype: Suri
Very excited to have purchased this girl from Sunrise Ranch in Alberta. Not only a ribbon winner but a grandaughter of Magic Juan. She presented us with one cria and unfortunately never produced another offspring again even though bred a few times over the years. She now enjoys early retirement, just lazin and grazin.
Heritage: Peruvian Keno, PME Firefrost, Hot Satin Delight, Bolivian Radical, Macho Camacho, Macho's Boomerang
Offspring: Misty Morn's Platinumn Frost (F) Sire: Northwest Titan
Northwest Makayla




WWLC Peruvian Mercury Rising x S.F. Celestine

Phenotype: Suri
Makayla is a striking suri girl with very fine locks. She is very elegant in appearance and sports dark grey neck fibre.
She is a very pleasant girl and passes on a sweet temperament to her offspring.
Heritage: Kantu P5, Peruvian Siverado Sir, Peruvian Apuesto B1005, Chilean Leroy Brown, S.F. Celestine, North West Epiphany, The Tunitas Creek Jestor
Offspring In Order: Misty Morn's Tawny Roque (M) Sire: Lux's Copper Cat: Misty Morn's Gunmetal Illusion (M) Sire: M.R.S. Heavy Metal, Misty Morn's Trailblazer (M) Sire: M.R.S. Heavy Metal
Misty Morn's Tecquila Rose




M.R.S. Heavy Metal x Northwest Tequila

Phenotype: Silky
She is big, beautiful and a sweetheart. She is very correct with the straightest back I have ever seen on a Llama (equalling her Sires). We have breed Rose for a 2021 spring cria. We did not do a field test so hopefully she will surprise us. A photo below is an additional picture of Rose.


Heritage: Castlerock's Lethal Weapon, White Heat, MMR Melinda, Saltspring Tsunami, WWLC Peruvian Mercury Rising, Sunwood Amanda (CAN)
M and M Hope




SSRMT Leonardo x J&L's June

Phenotype: Silky
Lovely girl hailing from Montana. Hope is a well built girl displaying a solid frame and beautiful head. We have bred Hope for a couple of years without success.
Heritage: Chileno Siricache, Mirrored Image SSRMT,
GNLC Catman, Chief Sitting Bull, Zorro PL
Montana's Sunfire




Case Fire x Sunrise Montana

Phenotype: Suri
Montana is a gentle female with a very calm nature. She is an excellent mother. Her sire Case Fire now resides in Europe.
Heritage: Peruvian Keno PC-1, Bolivian Radical, Hot Satin Delite, RAR Chilean Sizzlin Sam, Nobility
Offspring In Order: Misty Morn's Magnum Force (M) Sire: Teriffic's Teriffic Misty Morn's Smokescreen Illusion (M) Sire: Northern Reflections Eclipse
Cinder Dust




Case Fire x Maybelle's Wind Dancer FE17

Phenotype: Suri
Cinder's Dam (RIP) was my most treasured female. She was regal in my eyes and all of her crias born here remain here in their forever home. Cinder is a pet and loves hugs and kisses. She passes on her gentle temperament to all of her crias.




Heritage: Peruvian Keno PC-1, White Heat, Bolivian Radical, Top Flight, LW Durango, Zorro Pl, Dr. Doolittle

Offspring In Order: Misty Morn's Ruffian (M) Sire: M.R.S. Vyking: Misty Morn's Lyrical Eloquence (F) Sire:M.R.S. Vyking: Misty Morn's Neutron Starr (M) Sire: MDL-AD Cordero

0

/