We have provided a photo of each of our ladies as well as their offspring to date. Some of the crias were conceived prior to our ownership. Photos for those Llamas were obtained from the International Llama Registry's archives. Many of our older females were purchased mid-life to add their genetics to our breeding programme. Some have passed and many now are in retirement...just lazin and grazin.
Northwest Tequila




Retired

WWLC Peruvian Mercury Rising x Sunwood Amanda

Phenotype: Silky
Breeders most often have several dream girls in their breeding programme. This girl is definately one for me. Her first three crias were conceived under previous ownership. However we did manage to purchase Northwest Titan as a yearling. He is now one of our premiere Herdsires. Tecquila was purchased bred thus her third cria was born on our farm. Tecquila had three crias for us and now has entered her retirement.
Heritage: Kantu P5, LL Baraka, Peruvian Apeuesto B1005
Offspring in Order: Northwest Afternoon Delight (F) Sire: SSRMT Leonardo: Northwest Titan (M) Sire: SSRMT Leonardo: Knight Raider (M) Sunrise Cisco: Misty Morn's Tecquila Rose (F) Sire: M.R.S. Heavy Metal: Misty Morn's Radiance (F) Sire: M.R.S. Heavy Metal: Misty Morn's Dark Secret (F) Sire: M.R.S. Heavy Metal

Ekati's Elita




WSL Ekati x White Star's Gidget

Phenotype: Suri
Elita was purchased as an older girl given our interest in passing on her genetics. She is such a proud girl, always head held high. Her tail was injured prior to coming to our farm but nonetheless a lovely girl with striking carriage. To our knowledge Elita had two crias prior to coming to our farm. She was bred for us in Alberta. Arabella was born the following spring and two years later she presented us with a beautiful male. We are hopeful for another cria from Elita prior to her retirement.
Heritage: Peruvian Maximo, Peruvian El Gris, Hard Rock's Coat of Many Colors, Silver Star's Doc Holiday
Offspring in Order: MDL-AB Shoni (F) Sire: MRS Soulman's Carbon 14: MDL-AB Selena (F) Sire: MRS Soulman's Carbon 14: Elita's Arabella (F) Sire: M.R.S. Ice & Easy: Misty Morn's Metallic Crossfire (M) Sire: M.R.S. Heavy Metal
S.F. Tiffany

Semi-Retired

STL Ikon x S.F. Celestine

Phenotype: Silky
This beautiful girl has a family tree that is absolutely stellar. So purchased mid-life in hopes of continuing on her heritage. Such a cute face with those fluffy puffs of fibre on the tops of her ears. Tiffany has not produced a cria for us although bred several times. Perhaps one more try before retirement.
Heritage: Bauernheim's Tital Wave, STL Ikon, The Fiduciary, Chilean Leroy Brown, North West Epiphany, S.F. Celestine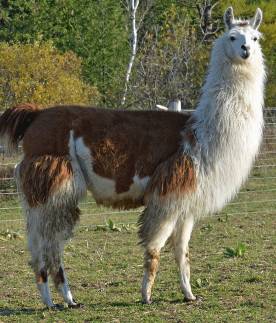 Silver's Finale

TLR's Silver Cloud x Coco

Phenotype: Silky
Finale is one of the very first Llamas on our farm thus introducing us to the wonderful world of Llamas. She is a pure pet and our PR Llama. Finale's Dam (owned by a neibour) was bred to T.L.R. Silver Cloud before we purchased him. Unfortunately Finale's Dam died giving birth to her and was put to rest before we could check her for a micro chip leaving Finale's heritage not fully known. Silver Cloud (Sire) was Canadian Registered. Given Silver's status at least one side of Finale's family tree is traceable and on record. Finale produces beautiful offspring.
Offspring In Order: Misty Morn's Spanish Coquette (F) Sire: Northwest Titan: Misty Morn's Sandpebbles (F) Peruvian Impact: Misty Morn's Touch of Finesse (F) Sire: Northwest Titan: Misty Morn's Enchanting Miss (F) Sire: Mach One's Paco

Heritage: Senior Rambo, STL Lord Chancellor, Nobility, Lacinda, Silver Star's Doc Holiday, Buttermilk Blues
/